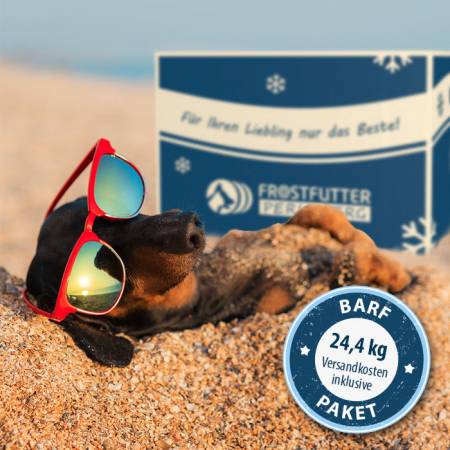 View full size
BARF-Holiday-Package
PPR37
A variation of frozen food
Perfect for the holidays: our bulgingly filled Holiday Package with varied BARF-treats. The package contains finest frozen meat variations from beef, chicken and fish: tasty rumen/tripe and omasum/leaf tripe, bony products such as minced chicken carcass and leg discs plus nutrient-rich beef kidney. As a special highlight our popular Summer-Mix is contained, which consists of a beef mixture, rice, apples and strawberries.
Summery extras
Besides the frozen meat you will also find in our BARF-Holiday Package: beef blood, which is rich in irom, our popular Dog Ice Cream, made from lactose-free yogurt and the delicate Hamburgers For Dogs. With this mixture you will sweeten the holidays of your four-legged friend, guaranteed.
Note: The holiday package can only be ordered from 08.08.2019 to 21.08.2019.
Note: Orders with the destination country being Hungary or Spain increases the asking price to 69,99 € VAT included.
Note: If you order other articles with the BARF benefit package (not sample packages) these articles incur additional shipping, packing costs.
Summertime is holiday time and of course, the appropriate treats for your four-legged darling shall not be missed.
By buying this product you can collect 1 loyalty point per Euro. All collected points can be converted into vouchers (minimum 250 loyalty points). To learn more, click here.
back